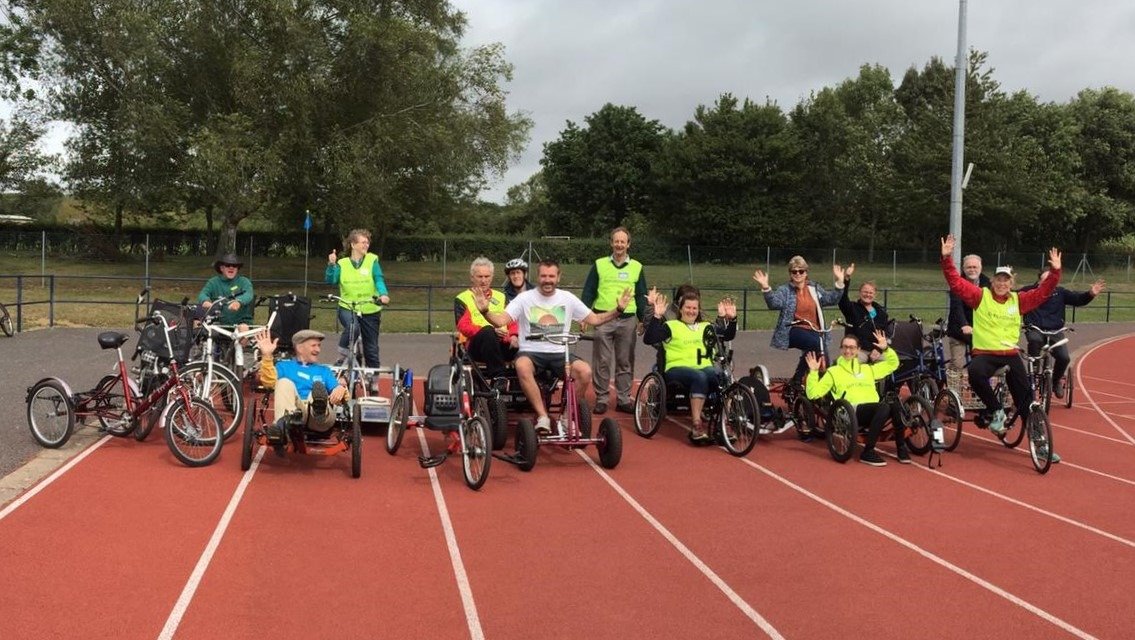 Inclusive cycling in Oxford: Wheels for All
What image comes up when you think: 'bicycle'? Something with two wheels, a saddle and  handlebars? Think again. There are many different types of 'cycle', which means that people with a wide range of needs can enjoy the benefits of riding a bike.  
Wheels for All – Oxford are the local experts on this. Every Friday, they provide inclusive cycling facilities in a safe and supportive environment, at the athletics track on Horspath Road. Their range of two, three and four wheeled bikes (or, more correctly: bicycles, tricycles and quadricycles) with a variety of adaptations (such as handcycles, different seats, and features that help riders locate their feet and hands on the controls), enable disabled and non-disabled people to socialise and enjoy the benefits of riding a bike together. 
The group offers a wide range of bikes. Two-seater tandems (with the option to cycle in-line, or side-by-side) enable participants to be accompanied by a parent, friend, or carer, as well as giving people the opportunity to talk as they enjoy their ride around the track. There is a cycle that can accommodate a wheelchair that quickly allows the wheelchair user to sit up front and enjoy the sensation of the wind in their face. Thanks to Oxford Brookes University, the group also has access to electric assisted bikes, which they can lend out to anyone wanting to give one a try.
Many assume that people with physical and learning disabilities are unable to cycle but, with the right type of bike and the right adaptations, anyone can. Indeed, most people with a disability often find cycling easier than walking; it's a liberating activity that offers a level of independence that might be limited, or not otherwise experienced in day-to-day life. It's also great fun! 
Originally set up in 2012 under the auspices of the Cycling Projects charity, Wheels for All – Oxford is now affiliated with British Cycling and receives support from Active Oxfordshire and Access Sport Oxford. Led by Steve Unwin and Jennifer Tait – two Oxford residents and keen cyclists – alongside a team of trained leaders and volunteers, the group has gone from strength to strength; they have recently increased the number of sessions they provide from fortnightly to weekly. Local cycling groups have come together to offer their support including members of the Cowley Road Condors Cycling Club and Cyclox: the voice of cycling in Oxford. 
Catering for anyone over the age of 16, Wheels for All – Oxford's sessions benefit those with physical and learning disabilities and difficulties, mental health conditions (including dementia) and visual impairment, as well as anyone who needs to gain confidence, lose weight, or start an exercise programme. The group works with independent participants, occupational therapists, local councils, NHS primary care trusts and residential homes. 
New participants are always welcome, as are session leaders and volunteers. It's an enjoyable and rewarding experience for everyone involved. If you'd like to find out more, take part, or offer support, you can check out the group's website: wfaoxford.org.