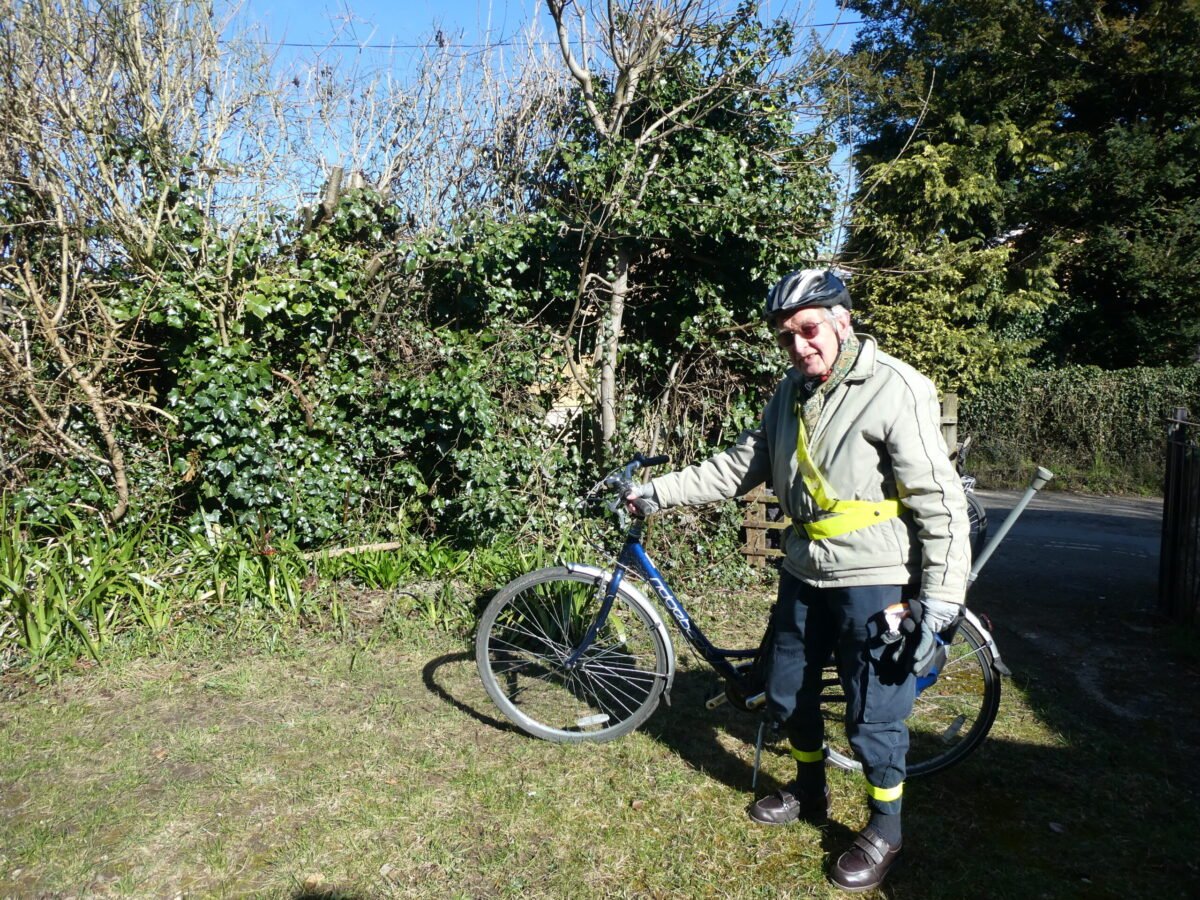 Celebrating over 80 years of cycling
By Andy Chivers
Cyclox members are a varied bunch, united by a belief in the pleasure and benefits of cycling. Our oldest member still riding a bike is now in his 90th year. He regularly rides from Marston into town, sometimes coming back by Donnington Bridge. When we heard about his life on a bike, we wanted to share his story.
Hubert Allen was born in 1931 in the Trust Territory of Tanganyika (now mainland Tanzania) where his parents were teachers.
For his 8th birthday he was given a bike at his grandparents' home in Kenya; but it was much further south that he learned to ride it. He recalls cycling around the settlement and being the first wheeled vehicle on a new road which had been built to make it easier for locals to get drinking water. Later, at boarding school in England, bicycles were banned, so he borrowed a bike in the holidays and cycled everywhere he could, along quiet country lanes. 
Between school and university he worked for three months in Germany and was then offered a job as a private tutor 500 miles away on the Atlantic coast of France; so, almost unbelievable nowadays, he simply set off on his bike to get there. Hubert recounts this endurance ride with typical understatement. The recurring sense from our conversation was 'what is all the fuss about?'  
After university here in Oxford, his first job was in Uganda, working over an area too big to cover by bike, though he sometimes rode locally. After Uganda he worked in Nigeria and the Dominican Republic, before spending fourteen years in Holland with an international organisation, where again, a bike was central to his daily life. While working in the Netherlands he became so used to riding a bike that once or twice, when he needed to use his car, he absent-mindedly drove it onto the bike path, much to the consternation of cyclists.
His favourite bike was bought in the Netherlands second-hand and was probably 40-years old by the time his grandchildren clubbed together on his 80th birthday to get him his present bike. They thought it was time for him to have an open frame which was easier to get on and off. 
Hubert had his first hip replacement ten years ago, and the second hip replacement last October. He's still finding walking painful; but riding a bike is perfectly manageable, though he avoids hills. He tries to ride his bike every day and has campaigned – through Cyclox – for bike racks at bus stops so that cyclists can leave their bikes securely and use buses for longer journeys. 
He has a very matter of fact view of bicycles – with no sense of nostalgia, or romance – bikes are a natural means of transport. He thinks his sons' experience is much more impressive than his own: one rode from Land's End to John O'Groats as a schoolboy, and the other from The Hague to Santiago de Compostela, and back. It is clear where their inspiration and determination came from.