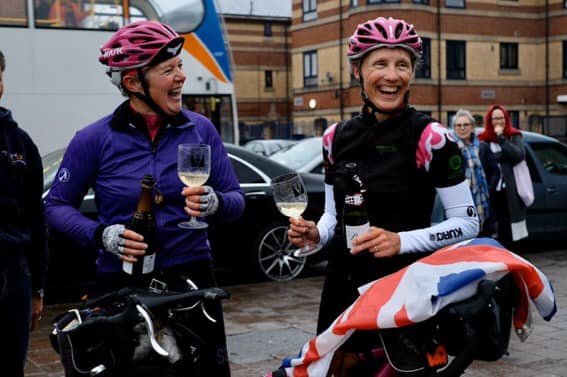 Cycling around the world in 263 days…
By Becci Curtis
On the 29th June 2019, a huge number of well-wishers congregated outside Beeline Bicycles to see two members of the Cowley Road Condors Cycling Club head off on the adventure of a lifetime. Raz Marsden and Cat Dixon – the 'Tandem Women on Wheels' – were on a mission to break the record for cycling around the world.
263 days, 7 hours and 7 minutes later (as yet 'unofficially' smashing the current record by 20 days), the pair completed their attempt faced by a very different scene. Having raced to get the last ferry back from France, amid the pandemic panic, a much smaller group cheered them over the Oxford finish line. As someone who had the utmost privilege of being the first and last timekeeper in their Guinness World Record (GWR) logbook, it was not the homecoming I had hoped for them, but having spent over 9 months travelling the world by bicycle with only each other for company, they are not easily beaten.
I asked Raz some questions:
Did you ever doubt that you would finish?
No. Neither of us. We just assumed we were going to do it. So we did! When there's two of you, you just do it. We were much braver, together. Cat was the best person to be with; we laughed so much. It was the best and most fun thing I've ever done. I wasn't quite ready to stop.
How did you cope when things didn't go according to plan?
Nothing went wrong, there were just sensible decisions to be made. Even Coronavirus; we just had to make the sensible decision to get back to the UK as quickly as we could. Although, being really organised helps! On the occasions where we ran out of food, we'd always find something right at the bottom of the bag.
A package of replacement cycling kit got stuck in Istanbul, before getting stuck in Georgia. To get the package, Cat had to register as a tax-payer in Tbilisi and we still didn't get the parcel – we had to cycle through India in very tired shorts! A total stranger volunteered for the new shorts to be delivered to them in Australia. Everybody was so lovely and supportive.
How did you handle such a long time away from your loved ones?
Social media, Skype and text messages make it very easy to stay in touch. There were very few places without WiFi.
Was there anything you packed that never got used?
We took two rape alarms and a fake purse with some fake cards and a bit of money, we didn't need either. It was so hot that we left all our Winter gear in Cannes, along with our cycling shoes. We cycled in sandals the whole way and – I can't believe I'm saying this – sandals and socks once we reached America!
We didn't really miss anything, we got by with what we had. Minimal clothes and just a couple of shorts. It's remarkable how little you need.
TandemWoW have raised nearly £37k for Oxfam and the Motor Neurone Disease Association. To donate, visit their fundraising page.