No more vans: Wolfson College trials e-bike deliveries
By Sir Tim Hitchens and Katherine Miles
Sir Tim is President of Wolfson College and Katherine is an Oxford City Councillor
Wolfson College has launched a trial to switch its parcel deliveries from vans to electric bikes. It is partnering with local cargo-bike delivery firm Pedal & Post.
Bike deliveries will address the challenge posed by the estimated half a million packages a year received by 20 Oxford colleges alone. In a joint effort between councillors, college and couriers, Wolfson College is taking a pioneering step to address transportation-related emissions and their harmful impacts.
Why switch to cargo bikes?
Cargo-bike delivery firms use e-assist tricycles with large boxes on the front or back to deliver goods. Bike deliveries are better than non-electric vehicles for the city's air quality and the wider environment. The bikes are smaller than vans, so move nimbly, rapidly and predictably through Oxford's congested streets. At the same time they reduce traffic congestion, which is why they are increasingly being used for medical deliveries at the city's hospitals. Bike deliveries are also safer on the streets than vans, making our city a more attractive and pedestrian-friendly place.
Wolfson College prides itself on being progressive and this trial is no exception.
How will it work?
Throughout the trial, standard van couriers will deliver parcels to a cargo-bike delivery hub outside the city centre. Those packages will be put into a reserved box throughout the day. In the evening, a cargo bike will take the box to Wolfson College in just one delivery. This will reduce emissions and road danger, while improving inner-city air quality.
Wolfson's President Sir Tim Hitchens says: 'Like many Oxford colleges with large student communities, we currently have something like 75 van deliveries per week during term time. This trial will aim over time to reduce that to just one delivery by bike per day. Not only is that a huge help to our college lodge team who handle all those deliveries, but it's a significant reduction in the congestion and pollution that all those vans cause in the immediate neighbourhood and around the city.'
What else has Wolfson done?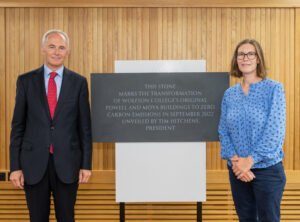 The college is no stranger to innovation. In July 2022 it switched over from gas to electricity on its main estate. In its drive towards reaching net zero by 2024, Wolfson decarbonised its main estate by triple glazing windows and replacing all the old gas boilers with electric air-source heat pumps. It will have done the same for its entire estate in north Oxford by 2024. Like other colleges, Wolfson is also fully divested from companies which derive revenue from fossil fuels. This cargo-bike trial tackles some of the college's remaining emissions associated with transport, which is the UK's largest carbon-emitting sector, at 27%.
Safer, cleaner deliveries
Oxford City Councillor Katherine Miles comments: 'After Wolfson's extensive consultation with students and staff on site, the idea has received broad support – everyone wants safer, cleaner deliveries and people agree that most of their packages don't require instant delivery. There are details to iron out and test during the pilot, but we're optimistic that it will be a success.'
To make a big difference to road safety and emissions across Oxford, we will need to scale it up. Other colleges and university departments are already interested, and so the Wolfson pilot will provide valuable insights to scale the initiative.
Cargo-bike deliveries are an exciting new market with two firms operating in Oxford (Pedal & Post and Velocity). They're both expanding rapidly and paying riders more than the Oxford Living Wage.
Switching to this type of delivery can contribute to a city that is less congested, safer, greener and more pleasant to walk in.
We can make this happen as a city by working together: town, gown and local business.