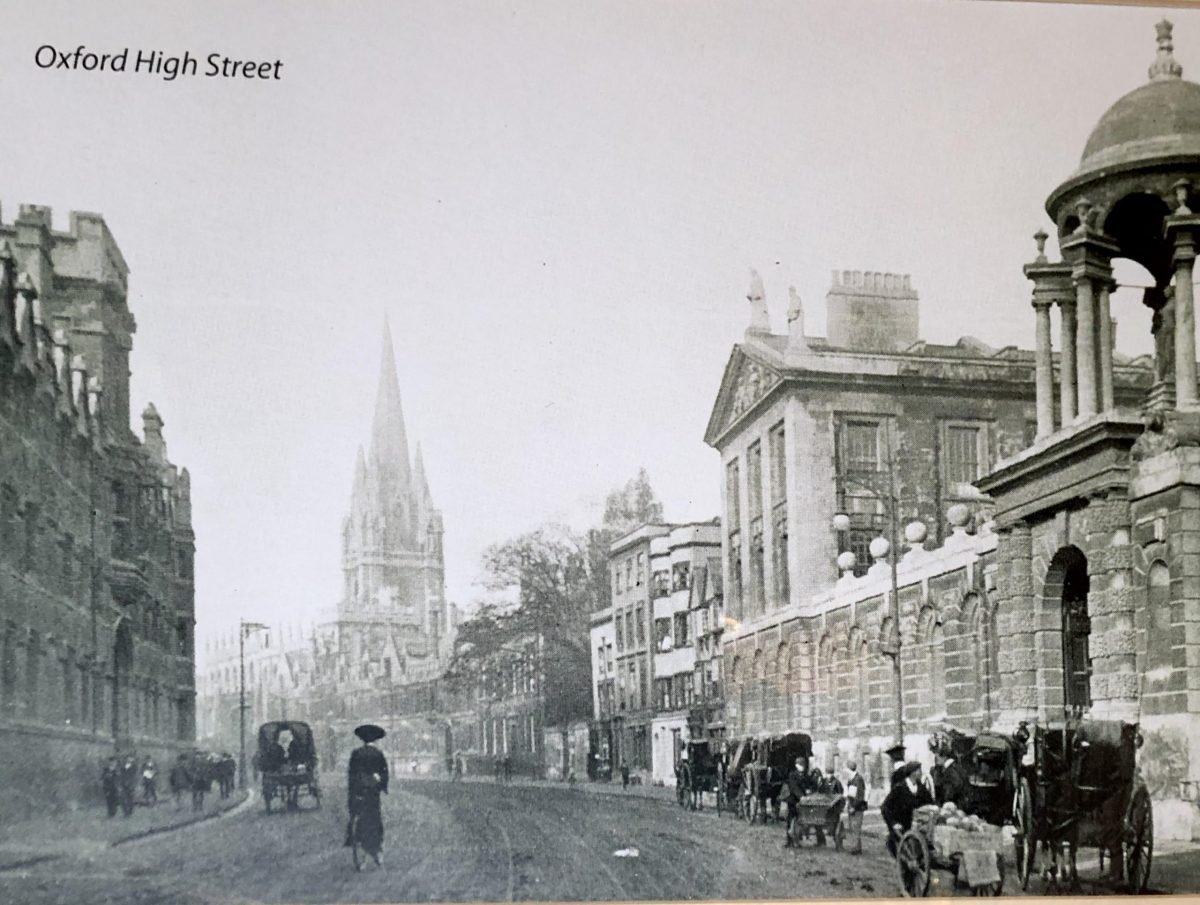 Cycles of time
By Rob Ainsley
Writer Rob Ainsley returned with his bike to Oxford for the first time in 35 years. It's changed since then. So's everything…
I lived in Oxford from 1979 to 1984. I got around by bike of course.
Cycle helmets were unknown. We leaned unlocked bikes against walls (my bike's anti-theft device was that it had no brakes.) Front lights were big as a brick and ate up two jam-jar-sized batteries in a weekend – so bikes never had working illumination. At least some things don't change.
I've revisited a few times since, but when I came this year, I was on a bike for the first time since then, researching cycle routes.
Some things have changed for the better. But not much. Broad St and the High now restrict private cars, but they're still too busy for stress-free cycling. Marston has that good new segregated school route, popular with kids. The cycle path from the centre across the meadows over the Cherwell links to it. And the towpath alongside the river, all bumpy chaos back then, is now smooth wide tarmac down to Kennington, and a delight to ride – so long as it's not boat race week.
Getting out west is possibly worse, though. There's a shared-use cycle path along the Botley Road that's well up to the usual British standard – awful, in other words. But the only option for day-riders intent on a day exploring the Cotswolds is that busy road past the reservoir up to Eynsham. There used to be a back-road alternative via a self-operated ferry across the Thames at Bablock Hythe. It provided a much more pleasant alternative for cyclists, but the ferry was wrecked by floods a few years ago. If only they could restore that…
The main surprise for me though was just how much lovely rural riding there is round Oxford. I did none of it in my student days. I was too busy going to lectures, parties and beer cellars, though not in that order. I never got further than the Trout at Godstow, and that was only because I got a lift.
So this time I was delighted to discover the surrounding countryside by bike. Beckley, with its super community pub (Evelyn Waugh wrote, drank and loved here 1924–1931, says the plaque: that must have been quite a lock-in), and fine views. The Cotswolds, all quaint honeyed cottages, fancy tea rooms, and VIPs patiently passing you in 4x4s. (Like many a cyclist, I recommend the lardy cake from Huffkins in Burford.) Brill, with its Trumptonesque hilltop windmill, and knobbly chalk pits that could have been a 1970s Dr Who location shoot.
I loved exploring the villages roundabout that sound like West Indian cricketers (Nuneham Courtney, Asthall Leigh, Westcott Barton). Or estate agents (Hampton Poyle, Berrick Salome, Hook Norton). Or endangered species (Marsh Gibbon, please drive carefully).
There's a lot of work to be done to make central Oxford satisfactory for cycling. But I was very happy to discover so many fine day rides around it. And if the pubs and cafes aren't open… well, packed lunches are what panniers and barbags are for.
Fresh air is free, and the bike is the best way to absorb it happily and healthily. And Oxford has lots of super places to pedal around to keep you sane in these strange times. That, at least, is a lesson I learned from my return.
Happy cycling!
Rob's pick of the best day rides around Oxford are detailed in this month's Cycling Plus magazine, issue 365.
The photo above was found by a Cyclox Committee Member in a pub near Beckley, pre-physical distancing measures.