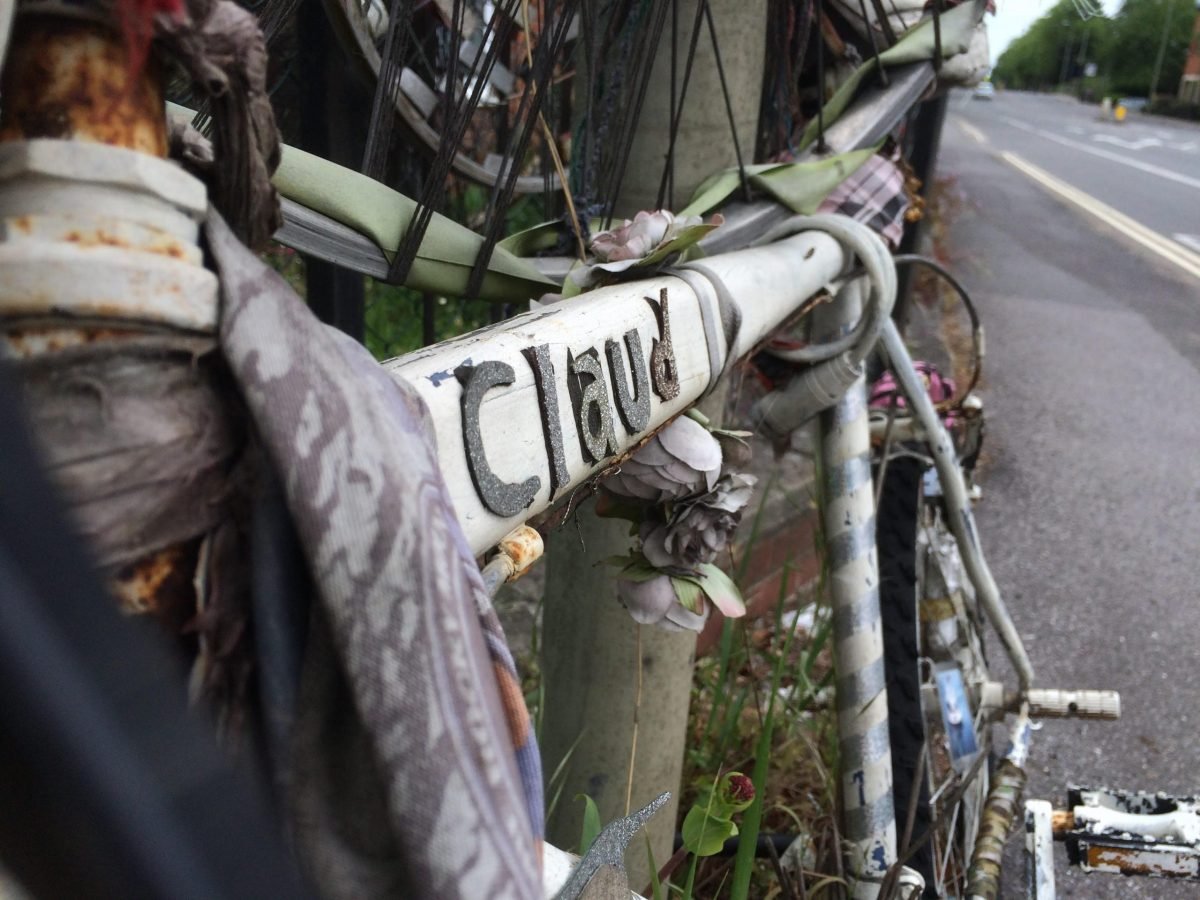 Remembering Claudia
3 years on and what's changed?
By Sam Chappell
It's been 3 years since Oxford felt the shock and the roar from someone being killed while cycling on our roads.
Claudia was my friend, my housemate, my riding buddy. Her ghost bike remains resting at the end of Botley Road. Rust spotted and weathering through its white paint, it marks a focal point where, in 2017, we cried and hugged, shouted and screamed, and felt both weak and powerful, directionless and full of purpose.
Dozens of us placed that bike on May 10th, in a whirlwind of emotion, sunburn, and spring blossom. Days later, hundreds of us took to the streets in a huge critical mass of riders, to make it clear how these are streets that belong to everybody, not just those in motor vehicles. In the months after, a group of us stretched our efforts into creating the Claudia Charter for Safer Cycling in Oxford, a description of vision that Oxford is still fighting to see today.
We're now 3 years on, and I keep going back to that evening of May 9th. A phonecall from a friend, the stomach-freezing news, a need to get outside, a walk in the dark feeling the tingling spring chill mixing with bursts of hawthorn scent, tears at unexpected sharp moments.
The hawthorn flowers are back. Some things you can rely on and take comfort in.
Other things you can rely on to bring discomfort. I'm still taking a deep breath whenever a vehicle approaches from behind. I'm still flinching at abrasive car horns when I ride away from the gutter. I'm still avoiding the most direct roads into town as they're the ones people in cars speed on. I'm still biting my lip at those who shout at me because I know it doesn't help anyone to meet anger with anger.
The status quo of the roads of Oxford is so heavily established, the tribes and their tropes, all too familiar. To be a person who cycles in Oxford is to be thick-skinned one moment of your commute, and tear-jerked the next. It is to only come up with your retorts to the window-down drive-by heckles after the moment, as you watch them speed away. It is to chide yourself for judging that, what looks like a stranger making a rude gesture through their windscreen at you, is actually a friend waving & smiling at you out of their car. It is to feel marginalised regardless of the colour of your skin, the size of your bank balance, the place you were born.
This pandemic and the tragedies that we are all part of, and the resultant shake up in the status quo of how people move around our city, have created some rare moments of respite for those who aren't driving. People were rollerskating on Abingdon Road the other week! What would it take to carry such moments into a new norm? How many more loved ones do we have to lose in order to see such progress?