No more cycle deaths in Oxford
By Alison Hill
Alison is Chair of Cyclox
One year has passed since the death of cyclist Jenny Wong at the junction of Headley Way and London Road. It is six months since Ellen Moilanen died at Oxford Parkway and Ling Felce at the Plain. All young women on their bikes, all in collision with heavy goods vehicles turning left.
Many people turned out to hold vigils marking these unnecessary and preventable deaths. At the site of each of the deaths there is a white 'ghost bike' to mark the tragic events. The impacts on each of the families as they cope with their loss is heartrending to imagine.
As a result of these deaths and the public outpouring of grief, horror, and anger, Cyclox and other active travel partners called for the County Council to adopt Vision Zero.
What is Vision Zero?
Vision Zero envisages a future where no-one is killed or seriously injured on Oxford's roads. It requires statutory agencies to work in partnership, together with campaigners, to eliminate all traffic fatalities and severe injuries, while at the same time increasing safe and healthy travel for all.
Until now traffic deaths have been seen as the inevitable side effect of our transport system. Oxfordshire is no exception in accepting the inevitability of collisions. Fatal and severe crashes are often described as 'accidents', but these life-changing tragedies are preventable.
The old way of thinking is that road users are responsible for safety and that they behave predictably. The new approach assumes that people make mistakes, and that the road system needs to build in measures to ensure these mistakes don't result in fatalities or serious injuries.
Vision Zero is a preventative approach that prioritises traffic safety in all decisions about our roads, streets, and transport.
We were encouraged that the County Council committed in the Local Transport and Connectivity Plan to achieving Vision Zero (no deaths or serious injury on the roads of Oxfordshire) by 2050. The interim target (and we recognise this is very challenging) is to reduce road fatalities or life-changing injuries by 50% by 2030.
We are expecting now to see urgent action to prioritise road safety rather than relegate it to something that is important, but less important than ensuring free and fast flows of traffic.
A slow start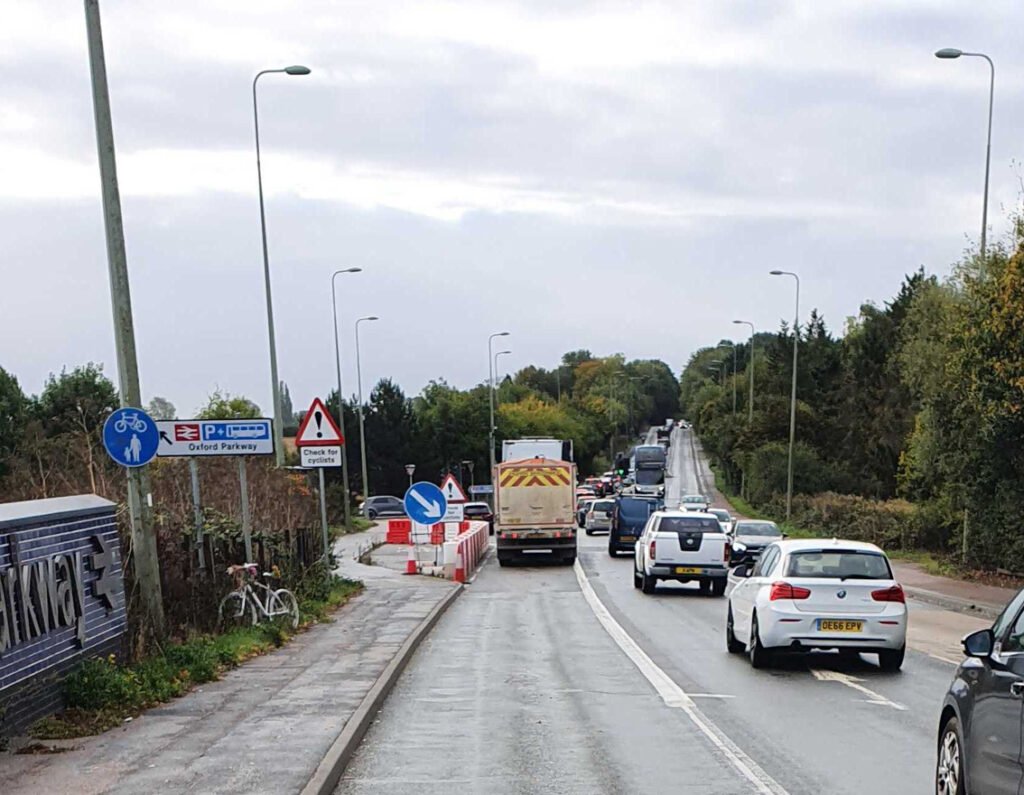 It has been a slow start. So far we have seen only modest changes to the fatal junctions.
At the Headley Way/London Road junction, an off-road left turn from London Road on to Headley Way, and advance cycle signalling has just been installed to ensure people on bikes can get off ahead of motor traffic.
At the Parkway Station some water filled barriers have been put in to shorten the slip road to Parkway Station. None of the other changes requested in a letter to the County Council on 21 February, signed by 174 people, have been acted on.
At the Plain there have been no changes despite some easy wins, like removing the parking outside the Ballroom Emporium and placing barriers on the central island leading on to the Plain from Magdalen Bridge. We are told there are plans in the pipeline that will be implemented in November.
What are we asking for?
To achieve Vision Zero Cyclox is calling for:
high-quality protected cycle lanes
safe junctions and crossings
a 20 mph speed limit across the city
safety standards for HGVs coming into the city, with their drivers trained in safe urban driving
a significant reduction in car trips
Vision Zero requires a fundamentally different approach to what has gone before, but six months after the County agreed to adopt Vision Zero, little has changed. We expect much more rapid action from Oxfordshire County Council to achieve the short-term target of halving road fatalities or life-changing injuries by 2030. There is no time to waste.