Christmas buying guide to bike accessories
By Emily Kerr and Annette Pattinson
Emily is a Green councillor for Oxford City Council and Annette is founder of JoyRiders Oxford, which organises rides for women
What are the key accessories for cyclists in winter?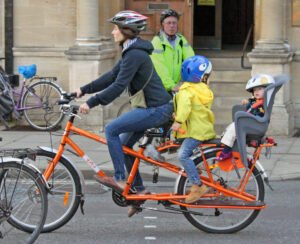 Mudguards are probably the most important.
Lights next if you are likely to cycle after dark. It can be useful to get the same type of light for all the bikes in your household, so you can share.
Locks should be around 10% of the value of the bike. If you have a lot of bikes in the house it can be helpful to have several using the same combination so you can grab one or two.
Puncture-proof tyres are great and puncture-resistant inner tubes are probably worth the extra couple of pounds.
Panniers are a good option for many people (these are special bags for bikes, and you need to install a rear rack for them to clip them to). Many panniers double as rucksacks. One or two baskets can be a great addition or alternative – put heavier stuff in the back basket if you have one.
Kids' bike seats are suitable for children from around 6 months to 4–5 years (depending on the seat). There are three key options: front mounted, rear mounted, and bar-mounted – lots more info online. Rear-mounted seats can double as bag-carrying space in the absence of a child.
A helmet is an accessory many adults choose to wear, but there's no obligation and research suggests wearing one isn't necessarily safer, partly because car drivers are the biggest risk to cyclists and they tend to take more care with bare-headed cyclists. Personally, I wear one about 80% of the time and my kids always wear them (because children are more likely to fall off when just cycling along).
Clothes
A cycling poncho can be useful to protect against the rain. I love mine which stuffs into its own pocket.
Hi-viz vests are good for visibility and are really cheap, or a proviz type of jacket which glows bright in car headlights. You can also decorate your bike (or kids' bike seat) with hi-viz stickers which can make you more visible. This kind of decoration (along with other customisation such as paint or nail varnish motifs) can also deter thieves.
Quick fixes
We highly recommend a floor pump. It's worth having a can of bike oil to keep your chain in good condition. Carrying spare inner tubes, tyre levers and a multi-Allen tool can be useful even if you can't use them very well yourself (as people will often stop to help) or you can just take your bike to a bike shop to have punctures repaired.
For the kids
For children from about 18 months to 4 years, the best bike to learn on is probably a balance bike. These have no pedals, which means children can first learn the crucial skills of balancing and steering, before then moving on to a pedal cycle. There's no need for stabilisers for a child who has learned on a balance bike – they move straight to pedalling a two wheeler.
Spoke beads are brightly coloured plastic beads which make a click-clacking noise as kids cycle. Bike streamers are ribbons which attach to the handlebars and flap pleasingly in the wind. Bike wheel lights thread through the spokes and create a cool effect which has the bonus of making the child more visible in the dark. Baskets are handy for kids to carry small items and mudguards are essential.
For anyone on a budget, Broken Spoke sell a range of second-hand parts at low prices.