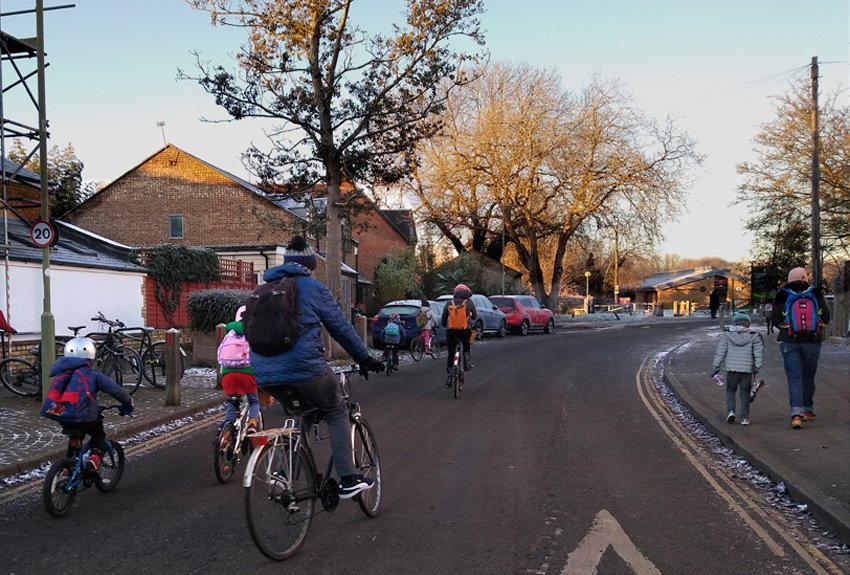 Cycling to school
By Zuhura Plummer
As we start a new school term, it's a brilliant time to get the kids biking to school. 'I save about two hours in a day,' an Oxford mum tells me, when I ask how she feels about the change in the way her kids get to school. Samita's girls have learnt to cycle, so can now they go to school without her. That saves her a huge ten hours a week of school-run time, which means she's able to work more, and as a single mum this has really helped.
'I don't know what I would be doing now, if I didn't have that extra bit of money coming in,' she adds. 'And I'm saving petrol from the four journeys a day I'm not doing. I honestly say the School Streets volunteers who taught my girls are angels. I didn't think that when I first met them though. I thought it was a total pain – why were they making my life so much harder?
Now the girls are in the habit of cycling, I wouldn't change it for the world.
Learning road skills
Samita's youngest, Soraya, who is seven, was taught to ride a bike off road, by School Streets volunteers at St Ebbes. When she could manage cycling well, she was taught a route from her house to the school. She negotiates this ten-minute bike ride from home, near Donnington Bridge, carefully and competently. Cycling alongside some other kids and one parent, they use the crossing on the Abingdon Road and then take quieter back streets the rest of the way. As I cycled close behind her one wintery evening, with her lights and little helmet shining brightly, I noticed how she recognises give-way lines, road signs and junctions.
Samita continues: 'Soraya knows what is going on – she looks around, she's cautious, and she's really good at riding. I feel like she is better off knowing how cars and streets work. Loads of kids now don't have a clue and then suddenly are allowed out as teenagers and they don't know a thing because they've been taken in the car every day.'
I'm inclined to agree. It's a huge benefit to kids to learn and practise the basics of road safety. It's all very well being taught, but actually using the skills – supervised until needed – brings another level of understanding that they'll have for life.
Three quarters of children biked or walked to school in 1975, but now only half do.
This adds up to a lot of young adults who have been ferried around and so will have less intuition and spatial awareness when negotiating traffic, and life in general.
A win-win for kids' health
Cycling to school is a bit of a silver bullet for kids. They move and exercise, it's time when they can't be in front of a screen, they see nature and the seasons changing, and they interact with adults and their own friends, forming social skills. They arrive at school better able to concentrate and learn, and the benefit of getting there actively is even more pronounced in kids with additional needs. According to one study, a 20-minute walk works wonders for kids with ADHD.
The biggest barrier to more children cycling or walking to school is the combination of parents lacking the time to go with them, but feeling afraid of cars hitting them if they go alone.  For this reason, we need a range of policies and a lot of support to help bring about quieter roads – traffic free for those who need to drive, safer, nicer and less polluted for the many of us who can change to walking, cycling or getting the bus. It might seem like a bit more effort at first, but as Soraya and her mum found out, there can be some unexpected benefits.