School Streets transform the school run
By Jamie Clarke
As the school year begins, the school-run traffic chaos will be missing from five Oxfordshire schools and nurseries. These schools have pioneered School Streets schemes for the county. Their pupils will avoid the usual traffic dangers, pollution and congestion. Instead they will be walking, cycling and scooting to and from their schools each day.
For the past year parents, teachers, councillors  and community volunteers, supported by their schools and by Oxfordshire County Council, have successfully implemented School Streets schemes outside St Ebbes CE Primary, Grandpont Nursery, Windmill Primary and Larkrise Primary in Oxford city, and St Nicolas CE Primary School in Abingdon.
How does it work?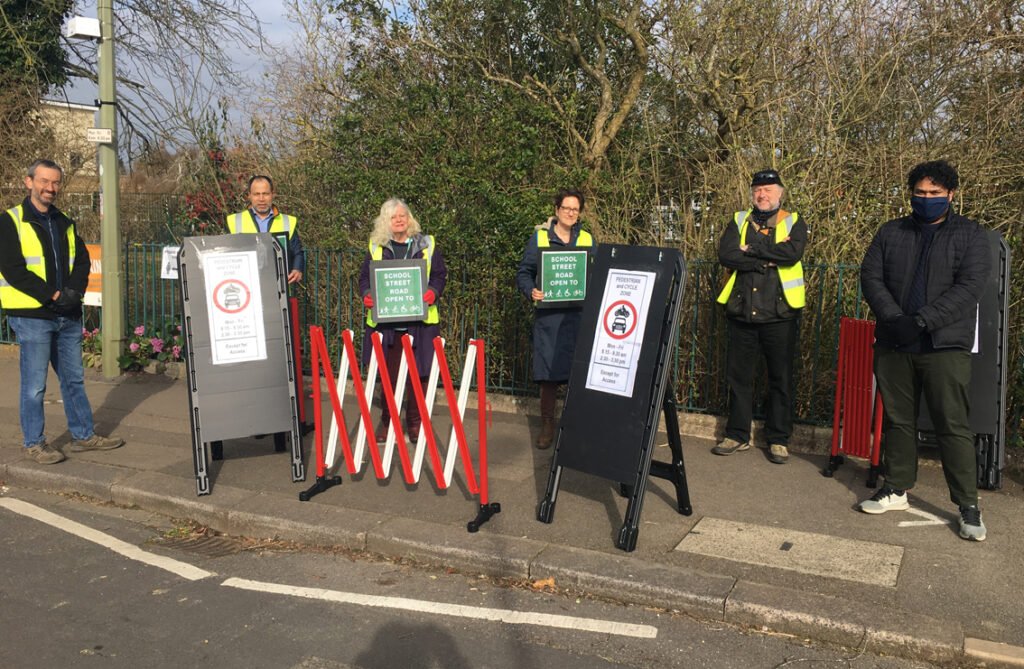 The scheme works by limiting vehicle access at the start and end of the school day to open up the streets outside schools for walking, cycling and scooting. So rather than 100+ vehicles converging on a small stretch of road for a short period, only local residents, those with disabilities and those with special needs can drive down the road at this time. The result has been a significant shift in the way pupils arrive at school.
As a parent of children at St Ebbes School I was keen to support the trial scheme. The traffic chaos outside the school was notorious. I'd witnessed more than one "near miss" between kids and cars. The normally tranquil cul de sac outside the school turned into a dangerous car park with cycling and road-crossing kids negotiating cars making three-point turns, driven by overstressed parents and carers, hurrying to be on time. In a 2020 survey of parents, 91% said there was congestion, 69% said the road was dangerous and 80% said they would support reducing the number of cars outside the school. Many said they'd rather not drive but felt they had little choice as the street was too dangerous.
Supporting the shift
Recognising that shifting from car use would not be easy for everyone, the volunteers set about reaching out to those who might struggle. St Ebbes School has a high number of pupils from outside the catchment area so we knew this was important. With the support of our local councillor, a Park and Stride was set up in our local park so that parents could park a short way from the school and walk the last part. An inspirational family initiated a 'bicycle bus' (a group cycling together) to pick up and drop kids from their homes. Cycle training is offered to children and their parents and a bicycle library has been established to lend bikes to families who may not be able to afford them.
A positive outcome
The results have transformed the school run. Traffic has reduced by 68% outside the school and the vast majority of pupils now actively travel all or some of the way. One parent said "I wouldn't let my daughter ride to school before because of the dangers on Whitehouse Road. Now I'm happy to, and she enjoys it". The response of the children has been really positive. One pupil said "I love cycling to school now, but before I always came by car". There have also been unexpected results.
One mum who was initially opposed to the scheme said "I was very angry about the scheme at first but with the support of the team my daughter is now cycling to and from school and so I've been able to increase my hours at work".
Plans are under way to make these five School Streets schemes permanent. Volunteers will be replaced by cameras (to allow approved cars access). It is hoped that further schemes can be rolled out to help hundreds more children gain the health and educational benefits of active travel, while reducing congestion and greenhouse gas emissions.