Why we like 15-minute neighbourhoods
By Alison Hill and Brenda Boardman
Alison is Chair of Cyclox, Brenda is Acting Chair Oxon4Buses
Over the last few decades, people have made fewer and fewer journeys on foot or by bike. Services and amenities have become dispersed, located in places only accessible by car. But the pandemic has resulted in a rethink of how we will live from now on. As home working has become accepted, people are increasingly aware of the value of staying local and not being dependent on cars or infrequent buses for most of their activities.
Amenity-rich neighbourhoods
Local neighbourhoods should be places where people are able to meet and connect with others. They should be places where it is possible to linger and enjoy being in the open air, places that do not require you to have a car, places where you can fulfil most of your daily needs and where your workplace is.
What does this mean for local communities? It means being able to access amenities such as supermarkets, cafés, pubs, green spaces, schools, pharmacies, all within a 15-minute walk, or an easy cycle ride, from your own home. It means that there need to be workplace spaces within communities rather than in business parks out of the city. And it means compact neighbourhoods rather than urban sprawl.
What do people want?
The concept of a city or neighbourhood where you can access most of your needs on foot or by bike is being adopted by many cities. It will make for less congested, cleaner, greener, more pleasant environments. In Paris, Mayor Anne Hidalgo has taken up the concept and has overseen a huge transformation of the city over a short time.
If you have travelled to Paris recently you will have seen the change, from a traffic-congested environment to streets bustling with people cycling and walking.
In 2021 the Coalition for Healthy Streets and Active Travel, a group of voluntary and campaigning organisations promoting active travel, undertook a survey of people across Oxfordshire to find out what amenities would they put as highest priority. The top priorities were:
green space or a park
a basic shop selling newspapers etc.
a post office
a GP surgery/health centre
a pharmacy
a supermarket
Summertown and Headington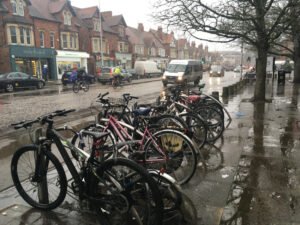 Summertown and central Headington are great examples of what a 15-minute neighbourhood looks like. They have many amenities within an easy walk for a large number of people. Planners in new developments nowadays would never design a neighbourhood with a main road running through it – which is a bit of a conundrum. There is a huge amount of housing development happening in Oxfordshire and so far the concept of a 15-minute neighbourhood has not been embedded in planning. This results in new communities dependent on cars for their everyday needs. Of note a recent YouGov poll found that the majority of the public support the concept and want their own local authority to make it their target, but there is a long way to go to make that a reality in many communities.
Disinformation
Fifteen-minute neighbourhoods are the source of a lot of disinformation at the moment. This includes the bizarre accusation that our County Council is going to lock residents into one of six zones to save the planet and place electronic gates on key roads to confine us to our own neighbourhoods.
This dystopian scenario is far from the truth. The 15-minute neighbourhood is a simple idea and one so attractive it is a puzzle why it has become the focus of such protest. Who wouldn't want to live within walking or cycling distance of everything we wish to access on a regular basis, and not to have to be dependent on your car every day? Pottering down to a local corner shop or pub ought to be everyone's right.