Citizens measuring the traffic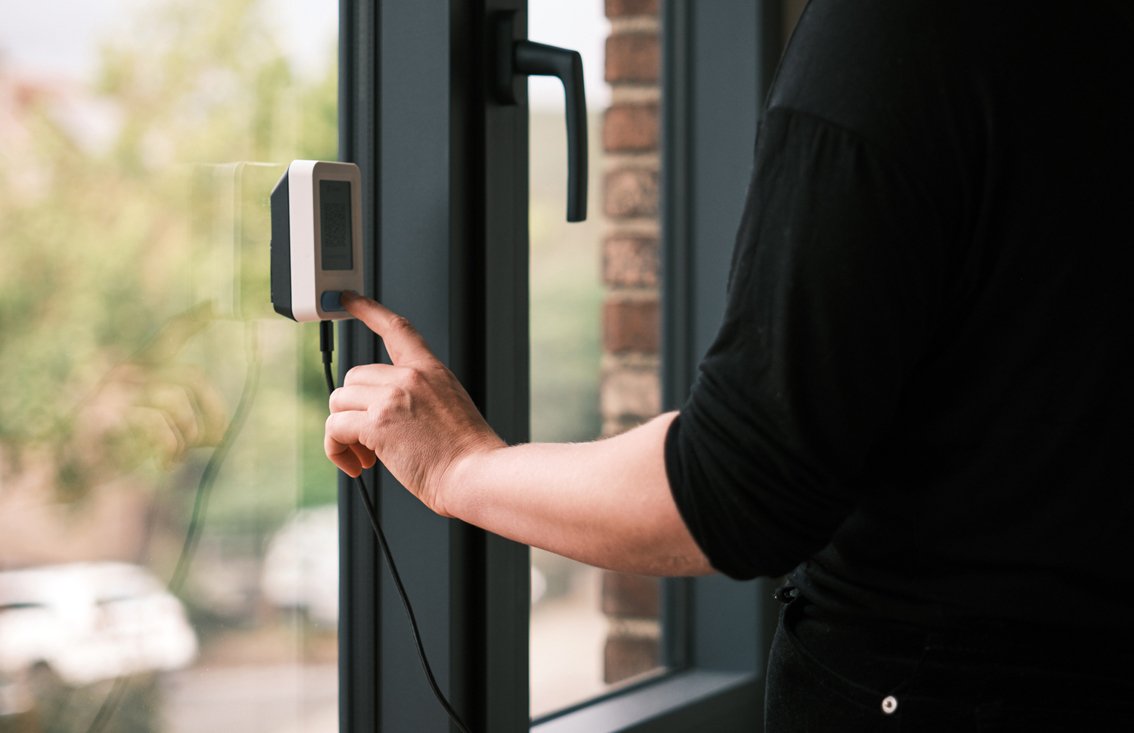 By Emily Kerr
Emily is Oxford City Councillor for the Green Party, St Mary's Ward
Traffic can be a tricky subject. We've seen this over the decades in Oxford, as more and more cars try to squeeze into our medieval streets. A headline in the Sunday Telegraph stated "Oxford City's streets are daily choked with traffic" – and that was back in February 1986.
I've spent a lot of the last 18 months looking at traffic research and information, as my ward of St Mary's launched low traffic neighbourhoods (LTNs) in May last year. One of my frustrations has been the lack of easy-to-understand traffic data for Oxford. That is all set to change now, with the launch of Telraams.
What are Telraams?
Telraams are traffic counters. They are little monitors, about the size of a pack of cards, and they sit in a window and count the speed, direction and type of traffic. This includes all kinds of traffic: bikes, cars, lorries, pedestrians. It's all uploaded to a website where anyone can access the data in a user-friendly format. Just search for Telraam on your browser and click on "maps". You will see that there are currently at least 20 counters in Oxford and another four elsewhere in Oxfordshire.
The devices are cameras which use AI to categorise traffic types. They don't store any images so there are no privacy issues. The best thing about them is they cost less than £200, making them affordable for small organisations like residents' associations, parish councils and even local councillors.
What are we doing with them?
There are a number of practical applications of Telraams. We now have a fairly extensive network in East Oxford, and more are springing up across the city. In my ward, we can see how many cyclists and pedestrians are using the LTNs. This amounts to 2,000 to 3,000 per day in the area between Cowley and Iffley Roads. A significant volume of this is the school run – which you can see from the time of day people are travelling.
Residents of Jeune Street have been able to tell how many cars are illegally driving down it the wrong way. We've noticed that there is heavy pedestrian use of Bullingdon Road, which means we'll ask for it to be gritted first during the winter. Headley Way has significant speeding and residents there can request enforcement by supplying more accurate details of the scale of the problem. When School Streets come in, we'll be able to see how they affect traffic.
On 17 October Oxfordshire County Council Cabinet is deciding whether to make the East Oxford LTNs permanent, and whether to replace the bollards in Magdalen Road, James Street and Divinity Road with automatic number plate recognition cameras.
Telraam counters will make it possible to monitor the traffic effects of whatever changes are decided.
Pros and cons
Telraams aren't perfect:
They are less accurate than the costly traffic counters deployed by local councils.
From my experience, they particularly struggle with large groups of pedestrians (such as teenagers walking to school).
They can't count when it's dark.
It's also a shame for us that we didn't have Telraams in place before the East Oxford LTNs as it means we can't measure the impacts of LTNs on individual roads and have to rely on the published data.
But the fact that Telraams provide cheap, live data free to all local citizens more than makes up for their deficiencies. I recommend them to residents' associations and individuals across the county. And anyone can access the interactive map by Googling "Telraam".
Photo credits
Woman installing a Telraam counter: Telraam.net
LTN: Kate Seal