Bikes and the Botley Road closure
By Lois Muddiman
Lois is a Green councillor for Osney and St Thomas Ward, Oxford City Council
After months of anticipation, the first 6-month closure of the Botley Road at Oxford railway station will begin on Tuesday 11 April. This is when work starts to divert 11 different utility services under the bridge. Replacement of the bridge will take place during a 6-month closure in 2024.
Once the works are complete, the station will have a new western entrance, an additional platform, and other infrastructure in place for the proposed Cowley branch line and new east–west routes.
For cyclists the new road layout will offer a choice of raised cycle/footways or cycle lanes on both sides.
As someone who has cycled under the bridge almost daily for more than 30 years, I'm hugely relieved that there will finally be a safer alternative.
The pedestrian tunnel
The road will be closed to all motor traffic until end October, but pedestrians, and cyclists pushing their bikes, can use the existing pedestrian tunnel. This may become a bottleneck, because all the bus services along Botley Road will begin and end at Osney. Passengers will walk the 500 m between Osney and St Frideswide Square to connect with buses on that side.
Cargo bikes and delivery bikes will also divert from the road to the narrow tunnel. Cargo-bike firm Pedal & Post has helpfully agreed to avoid peak times. Royal Mail is switching to using an e-bike to maintain deliveries in the area, as are other businesses based in Osney Mead.
Network Rail is providing 11 marshalls to help keep everyone safe and on the move. However, there will inevitably be delays, especially in the first few weeks, while we get used to the temporary arrangements.
Alternative routes
Congestion at the tunnel may mean you prefer to avoid the station area completely and there are many alternative routes.
If you're headed south: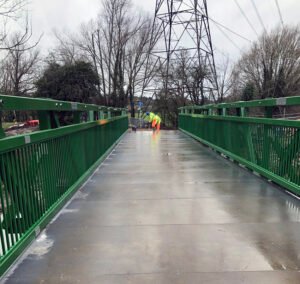 At peak times taking the towpath and accessing the town centre via the bridge across the river from the Grandpont Nature Reserve may be the quickest route. You can reach the towpath via the Osney Mead cycle route.
Willow Walk is reopening following a 3-month closure to upgrade the surface and install a wider bridge over the Bulstake Stream. And there's improved access onto Willow Walk from Lamarsh Road via the brand new cycle path across King George's Field.
Network Rail is considering installing a metal bike rail on the steps of the pedestrian bridge over the railway, between Mill Street and Osney Lane. This would be welcome.
It's also possible to access town via Gibbs Crescent and Oxpens Meadow.
If you're headed north, it's a little easier, as Roger Dudman Way will remain open throughout the works.
Concerns…
The road closures will cause an enormous amount of disruption and create difficulties for many of us. Two issues of particular concern which are still not fully resolved are:
access to the town centre and to medical appointments for those who are less mobile
access for emergency vehicles
…and opportunities
But there is also an opportunity for a change in habits.
Less traffic on the Botley Road, combined with warmer weather and lighter evenings might tempt more people to give cycling a go.
Broken Spoke is hoping to run some "Get Back on your Bike" courses in April and May for people to brush up their skills. Or if you're looking for a new bike, Warlands, Halfords and Decathlon in the Botley Road offer a great range of e-bikes and bikes. These include folding bikes, which you could combine with a £300 annual parking permit for any of Oxford's Park and Rides.
Finally, to ensure that cyclists feel safe when the road re-opens, we need further improvements to the cycling infrastructure for all of Botley Road.