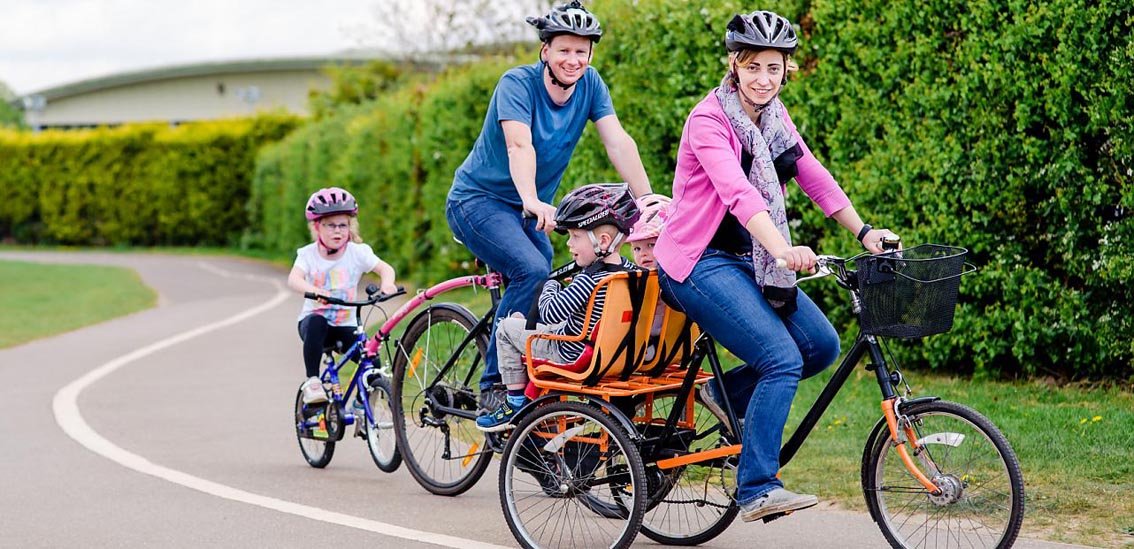 Celebrate Bike Week with a family ride!
By Robin Tucker
Robin is Chair, Oxfordshire Cycling Network
Bike Week 2023, from 5 to 11 June, is the 100th annual celebration of all things cycling. There are few places better to cycle than Oxfordshire, and cycling groups will be putting on special rides and events across the county.
To celebrate, Oxfordshire Cycling Network and the Coalition for Healthy Streets and Active Travel are launching:
Family-friendly cycling routes
The family-friendly rides are the most accessible, welcoming and safe routes that we can find. We have drawn on the expertise of local cycling groups to give the whole family the chance to enjoy cycling together. "These are routes where you could take a five- or six-year-old to learn to cycle, and people of all abilities can enjoy a gentle ride", said Cathy Gaulter of Thame Green Living, who was a contributor to the Phoenix Trail route description.
All these routes are free of motor traffic, although some have road crossings. Most have some point of interest on the ride, and a café or some other form of refreshment nearby. They are accessible for a large local population, and we indicate railway stations or car parking near the start for those coming from further away.
We would like to see every town, and every part of Oxford, create at least one route where children and people of all abilities can enjoy cycling and develop their skills in safety. The Faringdon Cycle Park is a great example of how popular dedicated facilities can be, but they can also form part of routes such as National Cycle Network Route 5, heading east of Abingdon.
Oxford Online Cycle Map
The Oxford Online Cycle Map has been put together by local residents. It shows connecting cycle routes across the city which are suitable for novice cyclists and people who want to find a walking route away from traffic.
Cllr Emily Kerr, who helped design the map, said "They won't always be the most direct, but they should be the quietest. It's on Google Maps so it can be used on your phone. We've split routes into car-free, low-car and walking-only, and have added a separate layer including crossings. We've aimed to make sure schools and other destinations are connected up, and where there are a number of options, we've just chosen the best one so the map doesn't get too crowded."
"It's a great tool for planning a commute, a journey to the shops, or visiting a friend", said Alison Hill of Cyclox.
A cycling county
Oxfordshire is a great place to be cycling. Recent data from Sport England's Active Lives survey showed that cycling in Oxfordshire had increased from a post-Covid dip.
In the year to November 2022, 44% of adults in the county cycled. That's 260,000 people, about 300,000 if we include children.
In Oxford, the second highest area for cycling in the country after Cambridge, 59% of adults cycled.
Only 68% of Oxford households have a car, and while the numbers of cyclists and non-car households are not directly comparable, their closeness makes it clear how important cycling is to the city's economy and transport system.
With these extra ideas to help find your way, it's a great opportunity to get on your bikes, with your children or friends, and enjoy the ride.
To find other rides and events check out your local cycling group. Many of them are listed on the Cycling UK Oxfordshire website.